Guide





Rule




Points

Arena





Bonus
Help

Games

QW2001

BGN

Xiangqi,also named as Chinese Chess,is a board game that has been around for thousands of years.Regardless of its origin, Xiangqi gained wide popularity in China, and developed from China, gradually spreading out to other countries.

Xiangqi is currently most prevalent in Chinese communities. However, the vigorous growth of the Internet means that the future prospects for the further propagation of this wonderful art form are endless. It is our belief that this brilliant game should be spread across the world, so as to give all of mankind a chance to enjoy this magnificent ancient art form.

MXQ was born to meet increasing interest and demand, both in China and abroad, for interactive xiangqi game. It is a home for making and meeting friends, an arena that is aimed at providing players with fast, exciting and fair contests. With the active participation of numerous xiangqi fans, we will usher in a new and flourishing age of Xiangqi.

MXQ is equipped with a Bilingual Chinese-English Platform. We welcome Xiangqi fans from all around the world to come and join in the competition.

Let¡¯s see who the real Xiangqi God is!



©2001.Movesky Inc.all right reserverd.
&©2001.Movesky Inc.all right reserverd.



sharpk@movesky.net



Download Client 1.51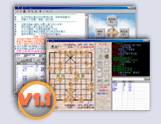 Download:
Top Slow

Rank
Name
Rating
1
lengmian
2415
2
bashe
2413
3
fastrose
2373
4
jyxyueshen
2345
5
wyuyuyu
2345
[]

Top Fast

Rank
Name
Rating
1
longye
2156
2
chenxidong
2109
3
officexp
2072
4
wyuyuyu
2054
5
hmybf
2052
[]

Arena Champion